Login
Log in if you have an account
Register
Having an account with us will allow you to check out faster in the future, store multiple addresses, view and track your orders in your account, and more.
Create an account
2024 Santa Cruz Blur CC X0 AXS-Kit Trail RSV
*Available for in store pickup only.
* To check in store availability:
Select variant below then view stock
here
A Fair Advantage
Each weekend, at race venues the world over, there is one rider who gets hoisted upon the shoulders of the crowd and carried to the podium. Or at least leaves with a water bottle as their prize. And between each of those races, innumerable wannabes are putting in the hours on the rollers and in the gym all because they want to feel what it's like to take the win. They know that to beat the pack every advantage needs to be acquired. That's where the Blur fits in.
We tapped into everything we've learned from years of making the highest quality carbon full-suspension bikes so that we could put as little (weight) as possible into the Blur frame. The trim frame and super-efficient Superlight™ suspension will be the key to translating your input into competition beating performances.
Key Features:
| | |
| --- | --- |
| Available in: | Carbon CC |
| Wheel Size: | 29" |
| Front Travel: | 100mm or 120mm |
| Rear Travel: | 100mm or 115mm |
SRAM Eagle Transmission - stronger, better shifting, wirelessly
The next generation SRAM Eagle Transmission specced on our CC-carbon models is a radically robust, fully integrated and interdependent wireless transmission. Built around the universal constant of the wheel axle itself, the Full Mount hangerless attachment creates a far stronger connection to the frame and the super strong derailleur provides unprecedented strength. Shifting under load is made possible due to a combination of X-SYNC technology and cassette mapping, creating seamless shifts even during your hardest power output. The new AXS Pods are extremely ergonomic and highly customizable, so shifting gears is light and intuitive. It's simply the most advanced transmission and nearly as tough as the mountain itself.
But the Blur isn't just for the short track. Two water bottle mounts within the front triangle should keep chuggers happy. And the high quality fit, finish and carbon construction promises multi-day racers a worry free existence—meaning there's no fiddly proprietary parts that could leave you stranded in a Cape Epic or Breck Epic campsite. The carbon frame, while being light, is made to go the distance and as always the legendary Santa Cruz lifetime warranty and Rider Support team has got your back.
The Blur isn't guaranteed to make you a race winner but being the lightest, full-suspension carbon XC bike we've ever made (Approx 23lb as complete. Blur frame is 289g lighter than the previous model) it might be the difference between claiming first place...or just crossing the line.
SPECS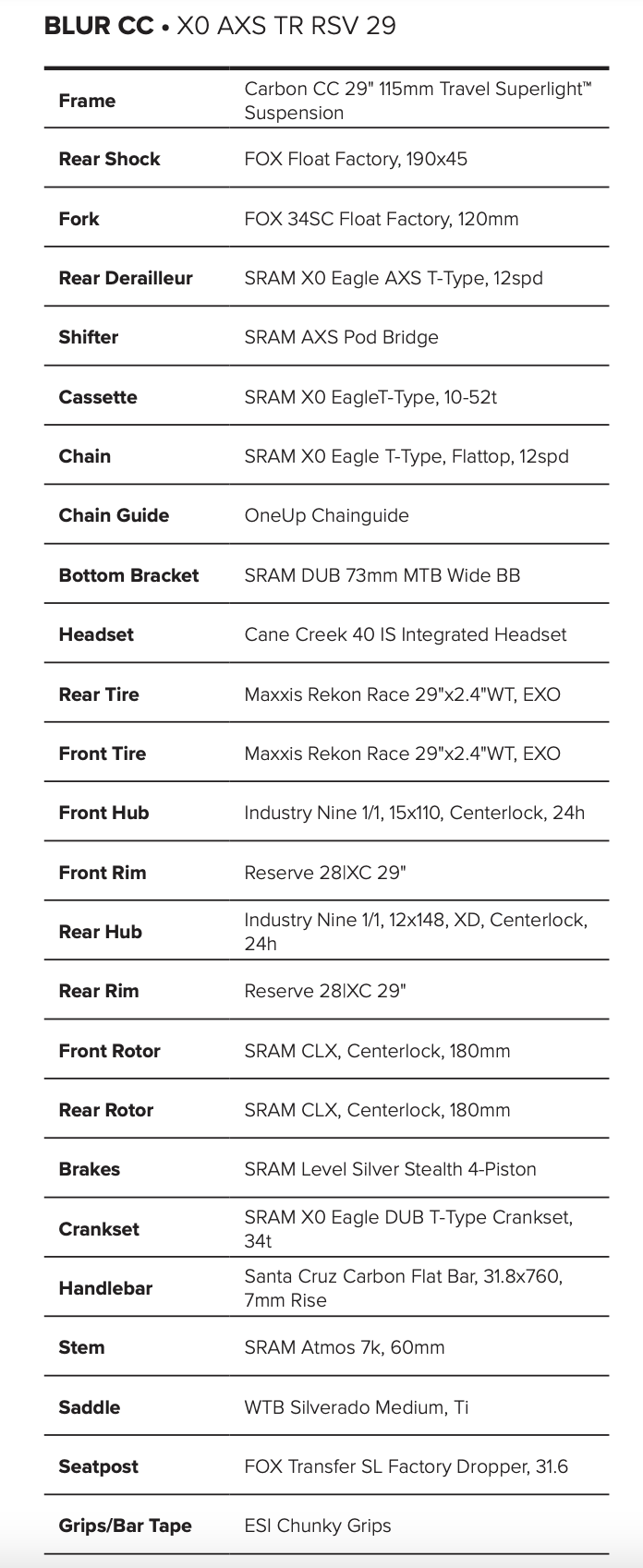 Geometry
All units are in millimeters or degrees.
| Blur Trail | S | M | L | XL |
| --- | --- | --- | --- | --- |
| Reach | 412.3 | 437.8 | 457.5 | 482.5 |
| Stack | 587.4 | 597 | 606.5 | 620.7 |
| Head Tube Angle | 67.1º | 67.1º | 67.1º | 67.1º |
| Seat Tube Length | 405 | 430 | 470 | 520 |
| Front Center | 695 | 723.7 | 747.4 | 778 |
| BB Height | 339.9 | 339.7 | 339.6 | 339.4 |
| BB Drop | 32.6 | 32.8 | 32.9 | 33.1 |
| Wheelbase | 1125.8 | 1157 | 1183.2 | 1216.3 |
| Rear Center | 430.8 | 433.3 | 435.8 | 438.3 |
| Head Tube Length | 90 | 100 | 110 | 125 |
| Top Tube Length | 568.4 | 597.3 | 621.4 | 651.7 |
| Seat Tube Angle | 75.1º | 75º | 74.9º | 74.8º |
| Standover Height | 743.5 | 746.4 | 745.4 | 750.1 |
Frame Sizing
155 - 165cm - S
165 - 175cm - M
175 - 185cm - L
185 - 196cm - XL
If you're on the cusp between the recommended height range of two sizes, the absolute best thing is to try to ride them both. At a minimum, check the stack/reach measurements on your current bike and compare it to the new model you are looking at to get an idea of a fit you are already comfortable with. If riding the bike is not an option, consider the following.
A larger size frame will be more stable, and will give you more room to move without upsetting the weight-balance of the bike. The larger size will put the front wheel further in front of you, which gives the feeling of security and conversely, it will require more significant body movements when you WANT to shift the weight-bias of the bike. Think hard about your riding style and how active/intuitive you want it to be vs stable and speedy. You'll need to work a bit harder to muscle the larger bike around.
Not all bodies at a given height are the same. If you have longer legs and a shorter torso than the average person your height, that may push you towards the smaller of the recommended sizes. If you're all torso and arms, most likely you'll want to size up.