Login
Log in if you have an account
Register
Having an account with us will allow you to check out faster in the future, store multiple addresses, view and track your orders in your account, and more.
Create an account
2024 Santa Cruz V10 8 CC Frame Gloss Red
Welcome to the eighth generation of V10 – one of the winningest downhill bikes ever. Constantly refined, not redefined.
* To check in store availability:
Select variant below then view stock
here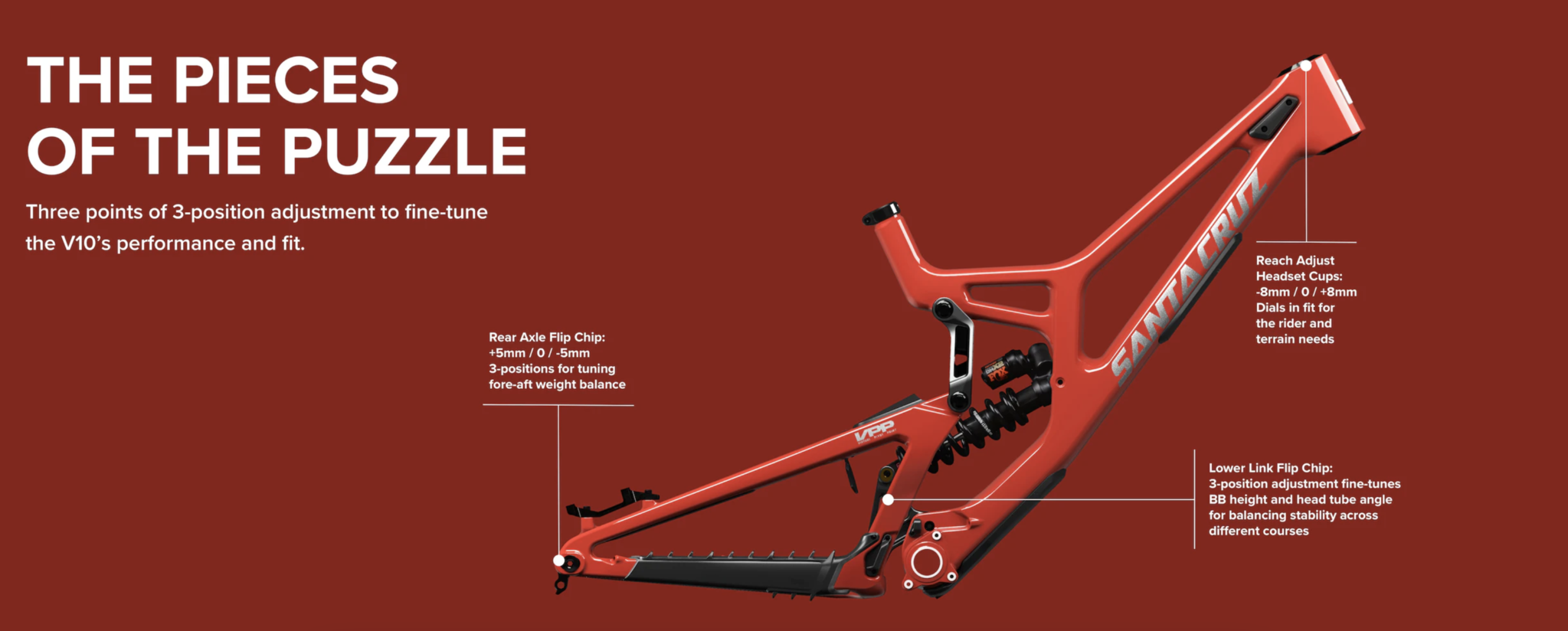 The V10 is the same bike ridden by the Syndicate to World Cup victories. Fully refined, not redefined, the new V10 is for riders looking to just imitate their heroes on Sunday afternoon or find the best lines in the bike park. The kind of rider who knows there's no replacement for a proper downhill bike. Lap after lap, day after day nothing stands up to the abuse or gives the thrills a downhill bike can. Nothing.
Available in: CC Carbon
Wheelsize: MX & 29 (frame size dependent)
Front Travel: 203mm
Rear Travel: 208mm
Designed for: DH racing and bike park laps
V10 Frame Specifications
| | |
| --- | --- |
| Suspension System | VPP |
| Rear Travel | 208mm |
| Front Derailleur | No compatibility |
| Headset/Headtube | IS41 upper/ IS41 lower (Reach Adjust) |
| Seat Post | 31.6mm |
| Seat Clamp | 36.4mm |
| Eye to Eye length | 250mm |
| Stroke | 75mm |
| Fork Compatibility | 200-203mm |
| BB Shell | 83mm Threaded |
| Max Tire Size | 2.5" |
| Max Chainring Size | 36t |
| Shock Mounting Bushing Front | 30x8 |
| Shock Mounting Bushing Rear | 30x8 |
| Rear Hub | 157x12 |
| Rear Brake | 200mm or 220mm Post |

KEY UPDATES
● Improved suspension kinematics for a smoother, more supportive, traction-filled ride.
● Fine-tuned stiffness to improve traction and provide a similar experience for riders of any size.
● Longer reach modernizes fit. ● More adjustments allow riders to finely-tune their ride.
● Dialed-in small parts (brake adapter, cable routing, protectors)
EVOLUTION OF A SPECIES
Welcome to the eighth generation of V10 – one of the winningest downhill bikes ever.
Constantly refined, not redefined.
Two decades in, the VPPTM suspension design continues to win races and attract imitators.
The V10 is the pinnacle of the pyramid of our bikes. Its presence (and success) at the
World Cup informs the rest of our bike range.
DEVELOPMENT IN PLAIN SIGHT
Years of development has led to this point.
We included riders every step of the way, from sharing secret test sessions with a World Champ to
showcasing our in-house fabrication and all the revisions along the way.
We did this to demonstrate how much control we have at every development step and that our team of
engineers and designers is the best in the biz.
Furthermore, we reinforce that every model of Santa Cruz receives the same meticulous design treatment.
● Fully designed and engineered by Santa Cruz: the same team that builds your trail, gravel and ebikes
● We fabricate all aluminum mules in-house.
● We utilize our own composites lab in California to test, retest (and even re-engineer) carbon frames
● Our overseas factory allows us to ensure quality and production control.
● Ridden and appraised by our in-house team of specialists, like suspension guru Kiran MacKinnon.
● Relentlessly validated in the harshest, real-world environments by the fastest team in the world:
The V10 sits at the top of our range, but it's not distinct from it.
Everything that goes into this model–people, knowledge, materials,
engineering, philosophy–is the same as all our other bikes.
The V10 informs our other MTB bikes, and those, in turn, inform this one.
Geometry
All units are in millimeters or degrees.
| LOW | S | M | L | XL |
| --- | --- | --- | --- | --- |
| Reach | long/mid/short | 409-417-425 | 444-452-460 | 464-472-480 | 489-497-505 |
| Stack | 626 | 635 | 639 | 644 |
| Head Tube Angle | 62.7 | 62.7 | 62.7 | 62.7 |
| Seat Tube Length | 435 | 445 | 455 | 465 |
| Front Center | 785 | 825 | 847 | 874 |
| BB Height | 351 | 351 | 351 | 351 |
| BB Drop (front) | 21 | 21 | 21 | 21 |
| BB Drop (rear) | 3 | 3 | 3 | 21 |
| Wheelbase | 1231 | 1276 | 1303 | 1335 |
| Rear Center | long/mid/short | 440-445-452 | 446-451-456 | 451-456-461 | 456-461-466 |
| Head Tube Length | 100 | 110 | 115 | 120 |
| Seat Tube Angle | 77.6 | 77.1 | 77 | 76.7 |
| Standover Height | 724 | 726 | 726 | 726 |
| MID | S | M | L | XL |
| --- | --- | --- | --- | --- |
| Reach | long/mid/short | 411-419-427 | 446-454-462 | 466-474-482 | 491-499-507 |
| Stack | 625 | 634 | 638 | 643 |
| Head Tube Angle | 62.9 | 62.9 | 62.9 | 62.9 |
| Seat Tube Length | 435 | 445 | 455 | 465 |
| Front Center | 785 | 825 | 847 | 874 |
| BB Height | 353 | 353 | 353 | 353 |
| BB Drop (front) | 19 | 19 | 19 | 19 |
| BB Drop (rear) | 1 | 1 | 1 | 19 |
| Wheelbase | 1231 | 1275 | 1303 | 1335 |
| Rear Center | long/mid/short | 440-445-451 | 446-451-456 | 451-456-461 | 456-461-466 |
| Head Tube Length | 100 | 110 | 115 | 120 |
| Seat Tube Angle | 77.8 | 77.3 | 77.2 | 76.9 |
| Standover Height | 726 | 728 | 729 | 729 |
| HIGH | S | M | L | XL |
| --- | --- | --- | --- | --- |
| Reach | long/mid/short | 412-420-428 | 447-455-463 | 467-475-483 | 492-500-508 |
| Stack | 624 | 633 | 637 | 642 |
| Head Tube Angle | 63 | 63 | 63 | 63 |
| Seat Tube Length | 435 | 445 | 455 | 465 |
| Front Center | 785 | 825 | 847 | 874 |
| BB Height | 356 | 356 | 356 | 356 |
| BB Drop (front) | 17 | 17 | 17 | 17 |
| BB Drop (rear) | -1 | -1 | -1 | 17 |
| Wheelbase | 1230 | 1275 | 1302 | 1334 |
| Rear Center | long/mid/short | 440-445-450 | 445-450-455 | 450-455-460 | 455-460-465 |
| Head Tube Length | 100 | 110 | 115 | 120 |
| Seat Tube Angle | 77.9 | 77.4 | 77.3 | 77 |
| Standover Height | 729 | 730 | 731 | 731 |